The SMI Cold Therapy wrap with the SMI Advantage! Experience a new level of ease and comfort for post-surgical cold therapy.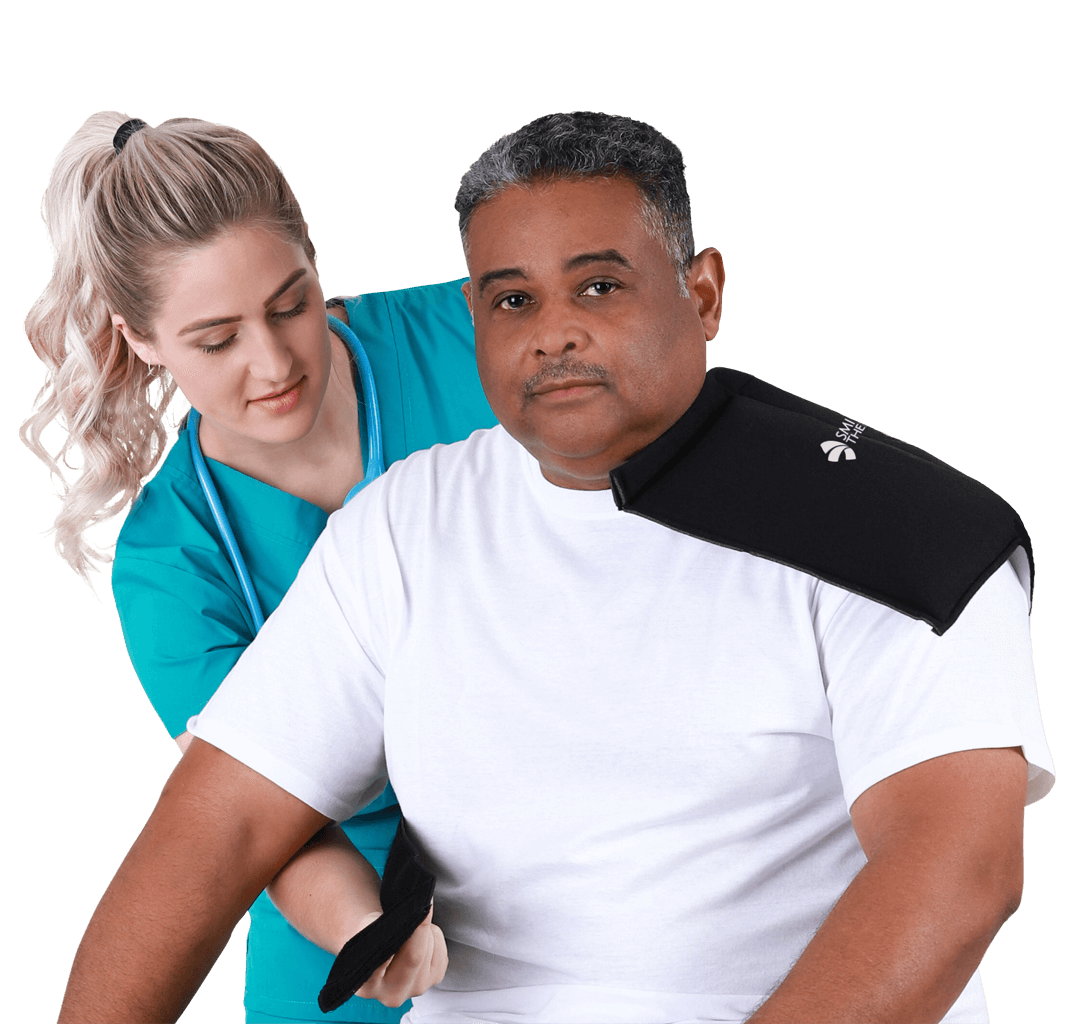 Simple is Always Better with the S•M•I Advantage!
Our extra wide proprietary straps drive cold therapy into the joint to help reduce inflammation for greater patient pain relief and edema reduction. 
They provide a snug fit to promote full ambulation without constricting circulation. All this adds up to improved patient compliance and experience! 
It's time to unplug! With SMI Cold Therapy Compression Wraps, patients are free to move around unencumbered by the tubing and power cords of cooling machines. 
Increase patient mobility and compliance while simplifying the post-op ice therapy protocols for your nursing staff. 
Designed to cool the joint for 3+ hours, SMI cold therapy ice packs allow for safe, continuous cold therapy for patients recovering from orthopedic surgeries. Our specialized ice pillows in every gel bag act like ice cubes in a drink, to help maintain the temperature of the joint without any skin or nerve damage. 
Our proven clinical process simplifies orthopedic nursing and allows for enhanced patient outcomes – better non-pharma pain control, faster patient discharge, and reduced cost. 
PRIVATE LABEL PROGRAM
We offer a unique, low-cost marketing opportunity for your hospital or surgery center! Easily place any facility's logo on each body-site specific compression wrap to help promote Orthopedic and Spine Programs. 
Our Freezer program
Did you know? SMI Cold Therapy provides AND replaces all freezers at no charge to the hospital or surgery center. We can outfit surgery and inpatient nursing teams with complimentary freezers to accommodate any clinical setting.
TRUST CLinical data
SMI Cold Therapy is the only compression wrap clinically proven to perform as well as the circulating cooling machines at a fraction of the cost. SMI offers the same efficacious cold therapy as the coolers without the need for tubes, power cords or pounds of ice!
"I have been working in orthopedics for ten years and this is by far my favorite product with regard to cold therapy. The SMI wraps are easy to use, slim and compact, and their simplistic design eliminates malfunction. Patients find the wraps user friendly and practical. My rep always goes above and beyond to make sure I have what I need and that our patients are taken care of."
Cold Therapy That's Easy to Use
No cold therapy method is easier to use than SMI Cold Therapy compression wraps! In just 4 quick and easy steps, your patients can be experiencing the benefits of comfortable and efficient cold therapy. Not only are SMI wraps easy to apply, it's easy to ambulate while wearing one — NO tubing, NO power cords, NO mess! NO kidding!
"I have had great experience with the wraps. Patients love them for their convenience and comfort. The surgeons love the patients' compliance with the product and benefit from cold therapy."
"SMI has been there for us. We have a need and they're there! Response time to our needs is also excellent. Patient's love the product and I couldn't be happier with the service that SMI has provided our organization/hospital."